Immediately after the payment you will get e-mail with your order details and Activation Key that you can immediately use to activate XS Material Presets.
At any time, you can sign-in to your account at Siger Studio and in the Customer Area > Orders you can find your Activation Key in the purchase order.
1. Run 3ds Max and launch XSMP plugin. A window prompting for activation will pop up.
To activate the license, internet connection is necessary.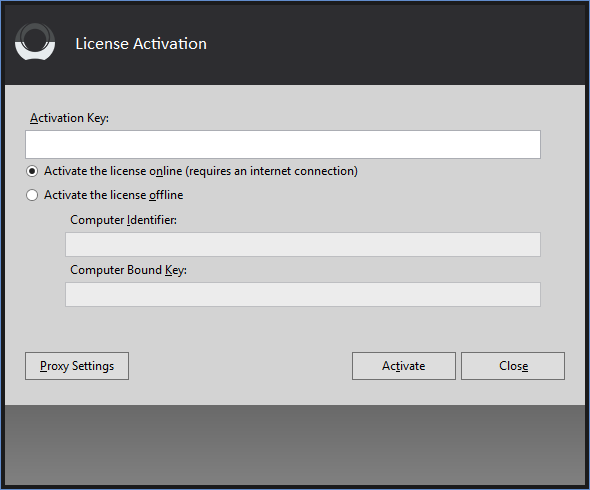 2. Copy and paste you Activation Key to required field.
Use only option Activate the license online.
If you connect to the Internet via a proxy server that requires authentication, you need to fill with the proper credentials other dialog window (click on the Proxy Settings button).
If activation system cannot connect to the licensing server (either the computer does not have Internet access, or firewall blocks 3dsmax.exe), you will receive an error message.
3. Click the button Activate.
If the Activation Key is accepted, you will receive a notification that the activation is successful.
4. Click the button Close. Now the XSMP plug-in will be launched.
You can see your Activation and Computer keys in the XSMP Settings> LICENSE.
To deactivate your current license, go to XSMP Settings > LICENSE and press the Deactivate License button.
To activate the license again, use the Activation procedure.
This is useful for example when reinstall OS or changing computer.
The number of computers that can be activated is limited by the number of licenses you purchased. However the plugin can be installed on two computers, for example at office and at home. After it is deactivated in one computer, the license can be temporarily activated in another. If the Activation Key is only one, it will be possible to use only in one computer at the same time.
To deactivate the license, internet connection is necessary!