This pack contains 4 complex material sets of Parquet.
Parquet material comes with three color variations and four finishes: Raw, Oiled, Semi-Gloss varnish and Gloss varnish.
Advanced material setups with anisotropy, shallow angle reflections, accurate varnish layer model – 48 materials in total.
For custom color variations collection includes diffuse maps in uncompressed PNG format.
You may use these to create your own color variations without having to worry about compression artifacts of JPEG files.
Beside several color variations, each material texture consists of maps containing information to surface normals, surface height, reflectivity and anisotropy. Normal, bump, specular maps are essential to be able to achieve photo-real and authentic render results.
Pack includes ready-to-use material setups for Corona Renderer, V-Ray (both for 3ds Max 2016+).
Downloads Filesize depending on the pack choice: ≃3.4GB
Requirements
Corona Renderer v.6.x or higher (preferably v.7.x)
---
V-Ray Next or higher (preferably v.5.x)
---
3ds Max 2016 or higher
---
Texture maps: ≃1.66 GB of available hard-disk space
---
Texture files management
Best practice is to copy all texture files to a local hard drive to have them at the ready.
Use an SSD for faster access speeds. Put map files into appropriate sub-folders, e.g. "sigershadersmaps".
Tell your 3ds Max software where to look for texture maps:
Customize > Configure Project Pats > External Files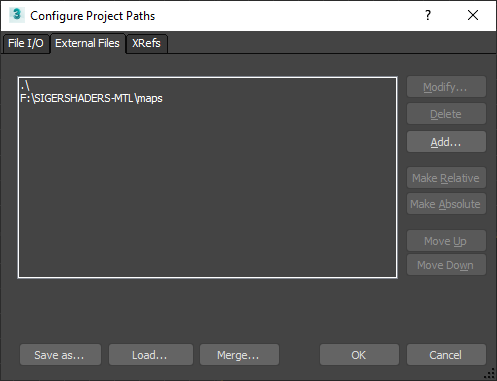 | | |
| --- | --- |
| 3ds Max Rendering Engine: | Corona Renderer, V-Ray, All |