System Requirements
Please make sure that your system fulfills the requirements listed below before installing Redshift | C4D Material Presets.
Memory
8GB RAM (16GB and up RAM recommended).
Hard Disk
Main Library: ≃1.0 GB of available hard-disk space.
Texture maps: ≃11.0 GB of available hard-disk space.
Maxon® Cinema 4D
Cinema 4D® R21 or later.
Redshift Renderer
Redshift Renderer 3.xx for Cinema 4D or later.
INSTALLATION
This guide is to serve as a reference for installation of Redshift | C4D Material Presets Library for Cinema 4D.
You can download the latest official version of Redshift | C4D Material Presets Library and Textures from www.sigerstudio.eu with the account supplied to you by Siger Studio.
Download and unpack archive sigershaders-redshift_xx.rar.
Copy file sigershaders redshift-xx.lib4d to C:\Users\USERNAME\AppData\Roaming\MAXON\CINEMA 4D Rx_xxxxxxxx\library\browser\
or C:\Program Files\MAXON\CINEMA 4D Rxx\library\browser\
Now you can find library in Cinema 4D Content Browser.
Textures
Download multipart RAR archive with textures from Downloads page.
You need to download all parts of archive to be able to begin the unpacking process.
For unpacking of archive you can use WinRAR or other compatible software.
If you have downloaded all files needed, e.g., all 11 ".part1-11.rar" RAR files, and placed them in the same directory, it is sufficient to double-click the file with the extension ".part1.rar" to start the unrar process (First part only! All other parts will be found and extracted automatically!).
Create a folder anywhere on the local or network drive, then extract downloaded archive to this folder (will be created an additional folder "tex").
Start Cinema 4D. Open Preferences dialog and specify path to the textures folder (include "tex" directory).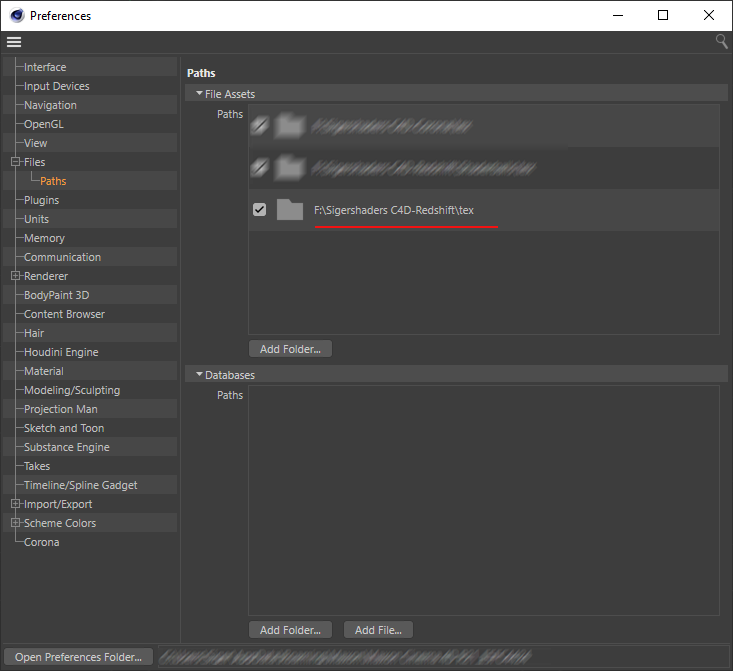 Changelog
06.01.2022 – v2.0.0
* Fixed some old materials and texture maps.
* Added new material categories Tiles ans Parquet Panels (108 new materials).
* Added new texture maps (190).
---
03.09.2021 – v1.5.0
* Re-designed Wood Various Species materials.
* Added new Various Species Walnut materials (8).
---
24.04.2021 – v1.4.0
* Wood oak materials remade.
* Added new Wood Oak Raw category (18).
---
04.12.2020 – v1.3.0
* Added new Wood materials: Various Species (36).
* Added new texturemaps (49).
* Library database file (*.lib4d) converted into material presets rather than file presets. You can now drag'n'drop a material preset into the Material Editor.
* The preview images are now moved to a separate directory (downloaded along with the library archive).
---
14.11.2020 – v1.2.0
* Added new Wood materials: Oak (54).
* Added new texturemaps (27).
---
09.10.2020 – v1.1.0
* Added new materials: Leather, Liquid, Metal, Parquet (336).
* Added new texturemaps (225).
---
25.09.2020 – v1.0.0
* Initial release.